Hello everyone. This is my very first review article for my first time building an entirely new computer. Since the motherboard was the first (and most important) component I bought, I decided to start with that. After searching for a couple of hours on Amazon, this one seemed to offer the most bang for the buck and has decent backward compatibility for some older components I plan to bring along into the build.
To be upfront with you all, my readers, this is an affiliate post in connection with my Amazon Associates account. Please see the expanded affiliate disclaimer.
I ended up buying the Gigabyte 78LMT-USB3 motherboard, designed for AMD processors. According to Gigabyte's website, it supports "AM3+ FX/AM3 Phenom™ II & Athlon™ II series processors", but to use the newer FX processors, you'll need to update the board with the most current BIOS.
What's Inside the Package?
The shipping was fast and it arrived right on time. I was home at the time it arrived too. Upon opening the shipping box, this is the box it arrived in. Inside, you get the board wrapped in protective plastic wrap, the owner's manual, an input/output shield for your case, two serial cables for hard and optical drives and a Utilities CD (not pictured). If you are using Windows, the CD includes Network and Audio drivers, as well as a copy of Norton Internet Security. My destination operating system will be Linux, so these drivers probably will not work. Linux provides it's own drivers.
CPU Socket
The next photo shows the CPU socket. I've never installed a CPU before, but based on what I've heard, AMD processors are easier to  install than Intel ones. The instructions say to line up a small triangle marking on the CPU with the marked small triangle on the CPU socket. In the image below, it is in the upper right.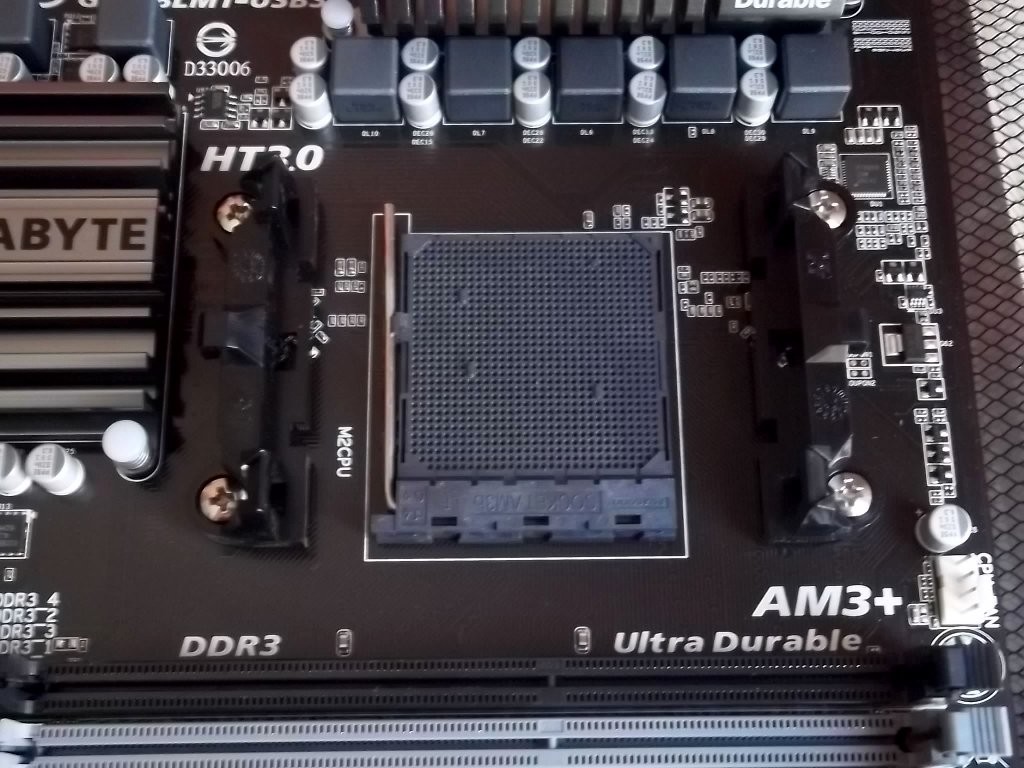 This motherboard will only support AM3 or AM3+ processors, so you may want to check if your processor is this socket type if you bought it first. It includes onboard graphics via Radeon HD 3000 graphics, but I'm not sure how this works. Some motherboards require you to buy a compatible APU (CPU with graphics chip on it), but AMD's A-series are not compatible; they fit FM2 sockets. Maybe someone can chime in in the comments about the integrated graphics; specifially if the integrated graphics are built into the board or if they require an APU.
Interfaces
The motherboard has six SATA ports for serial hard drives, supports RAID configurations and supports 3 terabyte and upward hard drives with a BIOS update. I'm adding only a 1TB hard drive to this one though. Another thing this motherboard has that I didn't know about before is an IDE connector, so I can add another backup hard drive that has a huge music collection on it. You can connect up to two IDE devices.
The GA-78LMT-USB3 supports up to 32 gigabytes of DDR3 RAM in four memory slots. Maximum RAM speed is 1333MHz. For a discrete (standalone) video card, there is a PCIe-16x slot. I plan to add a budget video card that will work with Linux's open source drivers. For now, I am not going to be using this build for gaming.
Back Panel
For the back of the computer, there is from top-to-bottom, left to right:
Two USB ports for a mouse and keyboard, a PS/2 port for a keyboard
A DVI and VGA port for a monitor (I assume this uses the integrated video ram)
An HDMI port
Two USB 3.0 ports
An ethernet port, two more USB 2.0 ports
Line in jack for optical drive (sound), line out jack for headphones and speakers, Mic in jack for a microphone
Conclusion
Since I haven't built this computer yet, I can't give a full opinion until all the components and software are installed. But, based on what the motherboard offers at the price point (around $60 dollars at Amazon), this motherboard gives a decent amount of options and supports some good quality processors. Backward compatibility is good, too. Fingers crossed that everything turns out okay and I don't screw anything up, I would highly recommend this motherboard.
Looking for a more substantial motherboard or an Intel board for your computer build? More Motherboards
are available at Amazon.com. On the resulting page you can narrow down by choosing Motherboards, then Type.
Next post in this series: My First Computer Build Part 2- The Case.
Tags for this post: Computer Components, Motherboard