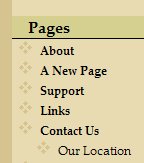 Suburban Warmth is a Sandbox skin based on the Clean and Plain design. This is a very simple and elegant design that works well for real estate and home design company blogs.
Features include:
A left aligned sidebar
A warm split complementary color scheme
Sidebar and post decorations
As of version 0.2, an option to upload a custom header image
As of version 0.2, support for WordPress 2.7 threaded comments
Adsense friendly, with instructions on how to place code found in readme.txt.
Specifications
Theme version:
0.2
Works with WordPress version:
2.7+
Tested in browsers:
Firefox 3.6, Chrome 10, Internet Explorer 7
Fixed/Fluid layout?:
Fixed
Minimum Width/Width:
960 pixels
Questions?/Fixes?:
Use contact form below
Portfolio/Contact:
www.jgpws.com/portfolio
jason.sgonzalezatgmail.com
Download "Suburban Warmth theme download" suburban-warmth022.zip – Downloaded 350 times – 524 KB
* I just realized the folder structure for all of my themes is probably zipped incorrectly. The folder structure should be folder.zip > folder, instead it is folder_zip.zip > folder_zip > folder. Themes may not install correctly using WordPress's theme Upload feature. Each theme's folder structure has now been corrected.
Screenshots and Live Preview
Changelog
0.2 (5/10/11)
Added support for WordPress 2.7's Custom Header, giving users the option to upload their own header background from the Admin panel.
0.2 (5/11/11)
Adjusted functions.php to point the return statements to the images folder for Adsense placeholders; now, placeholder shortcodes will work out of the box, without users having to upload the files to their Media folder. *Note- uploading a file to the Media folder is still required for tower ad placeholder in a text widget.
0.2.1 (5/14/11)
Changed "Suburban Warmth" title in the footer into a link to it's page at Jason G. Designs.
0.2.2 (6/9/11)
Tested for large photo and changed entry-content div to overflow-y in stylesheet, allowing for large photos to be scrolled.
Internet Explorer 7 layout fix is incorporated into this version of the theme.
Tags for this post: 2 Column, Adsense Friendly, Warm