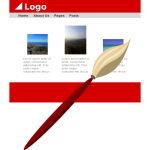 Unlike what some people say, free themes are great. I create free themes myself. But, when you want to have a professional presence online, you will probably want to go with a premium theme.
Solostream also offers free themes, but if you are running a business, you will need services like how-to video tutorials for your theme, web hosting and domain name registration, and technical support.
With their Lite package, you get access to all of their premium themes and updates, and how-to tutorials. Upgrading to the Gold package gives you all of the above, web hosting, domain registration, technical support and more. Upgrade again, and, you get my drift...
Solostream's themes offer a multitude of options in different niches. To see, just Browse Themes from the front page.
Purchase Information...