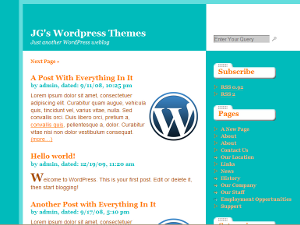 A brand new theme is now available for free download here at Jason G. Designs. This is the first of many free standalone and child themes to be released. The theme is called Blue Green Blast. I had already experimented with Sandbox and Thematic child themes before putting together this one (the Sandbox child themes will be offered as future releases).
Blue Green Blast's creation was documented in a series of Squidoo lenses beginning with Creating a Fancy Website Layout in Gimp 2.6. It features a blue-green vs. orange color scheme, a custom search box, Adsense friendly shortcodes and more. For the new theme and future themes, I put together a theme preview environment with a second WordPress install, using a modified version of WP Candy's sample content and the Theme Switcher plugin. This theme preview also includes the default WordPress theme, Twenty Ten as a starting point. Twenty Ten is not offered for download here.
Blue Green Blast and all future WordPress themes offered at Jason G. Designs is and will be 100% ad free (no embedded links to advertisers in the footer).
Blue Green Blast's preview page is at http://wpthemedemo.jasong-designs.com/index.php?wptheme=Blue%20Green%20Blast and it can be downloaded at http://www.jasong-designs.com/2011/04/25/blue-green-blast/.
Tags for this post: Ad Free Themes, Adsense, Spam Free Themes, Themes, WordPress