Latest Post
by Jason Gonzalez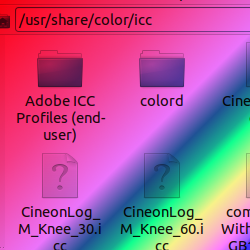 Just yesterday, I installed Adobe's ICC Profiles on my Ubuntu computer. If you look in the folder usr/share/color/icc, you will see the preinstalled color profiles that come with Ubuntu. These profiles control how color is displayed on your monitor Read more of this post…
Free WordPress themes for your enjoyment.
Articles related to web design, WordPress, web hosting and more. These are separated into three sections: Articles, Tips and Pointers.
*The image used is "Glasses on the newspaper 1" by Conrados at stock.xchng.
At JGPWS Tutorials, visitors will find tutorials for Adobe® Photoshop®, GIMP, HTML, CSS (Cascading Style Sheets), WordPress and more.
Print-On-Demand stores: Find custom clothing, apparel, mugs and more at JGD's Tees and items from Cafepress are coming soon. Click the graphic above for our Print-On-Demand page.